These Tin of Cards Kit Butterfly cards were made with supplies that come with the Kit.  The Portrait version follows the directions from the Kit.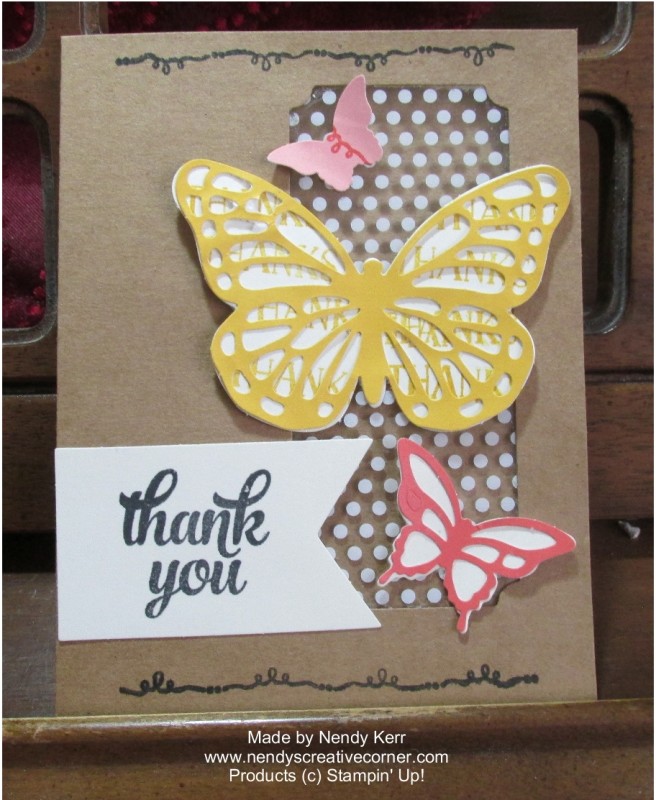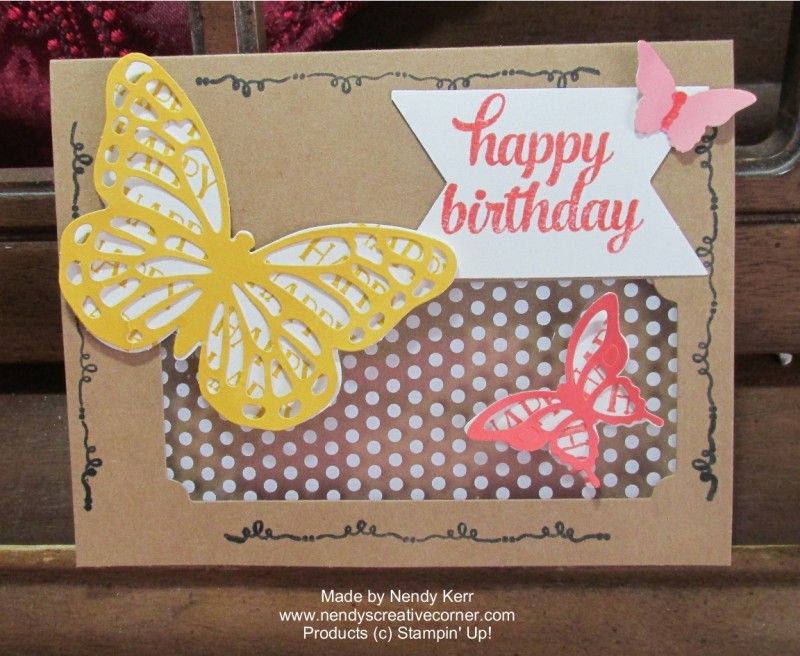 SUPPLIES:
Tin of Cards Project Kit #138378
Tin of Cards Photopolymer stamp set #138946, French #140064
Memento Black ink pad
Calypso Coral Ink pad and Marker
Glue Dots
Fast Fuse or Snail Adhesive
Dimensionals
INSTRUCTIONS:
1.  Choose the following things from your Kit:  Kraft Brown card base, Butterflies: colored cut outs and plain die cuts, Banner, Window Sheet with Dots.  You will also need Clear Mount Blocks for your stamps, the ink pads, and your adhesives.
2.  Choose the sentiment you want and get the larger italic font one and the plain font one that coordinate.  Stamp the plain larger butterflies with the coordinating inks and stamp.  Remove the excess pieces from the larger Butterflies with your Bone Folder.  Attach the Large and Medium Butterflies to the stamped plain Butterflies of the same size with 3-4 Glue Dots down the back of the body.  If you want the Butterfly parts to stay together use some Tombow Glue on parts of the wings to attach them together.  OR you can leave them separate and fluff up and separate the wing parts.  Color down the center of the smallest Butterfly body with your Marker.
3.  Stamp the Swirly  Line stamp along each edge of the card front as shown.  You can stamp it on either 3 or 4 sides.
4.  Stamp your sentiment on the Banner in either Memento Black or Calypso Coral.
5.  Now to put everything together.
~Attach the Dotted Window Sheet to the inside of the card with 6-8 Glue Dots.  Other adhesives are too thick and make a mess.
~Decide what position you want the Butterflies and the Banner in.
~Attach the Banner with Snail or Fast Fuse.
~The Butterflies can be attached with either Glue Dots down the center of the Body OR with Dimensionals.
6.  You now have some beautiful Butterfly cards to give to someone special.
Happy Card Making!
Nendy Kerr