We made this Sprinkles of Life Tree card at my last class.  I really do LOVE the NEW In Colors!  I tweaked a card designed by Erica Cerwin in the Sprinkles of Life Class Planner.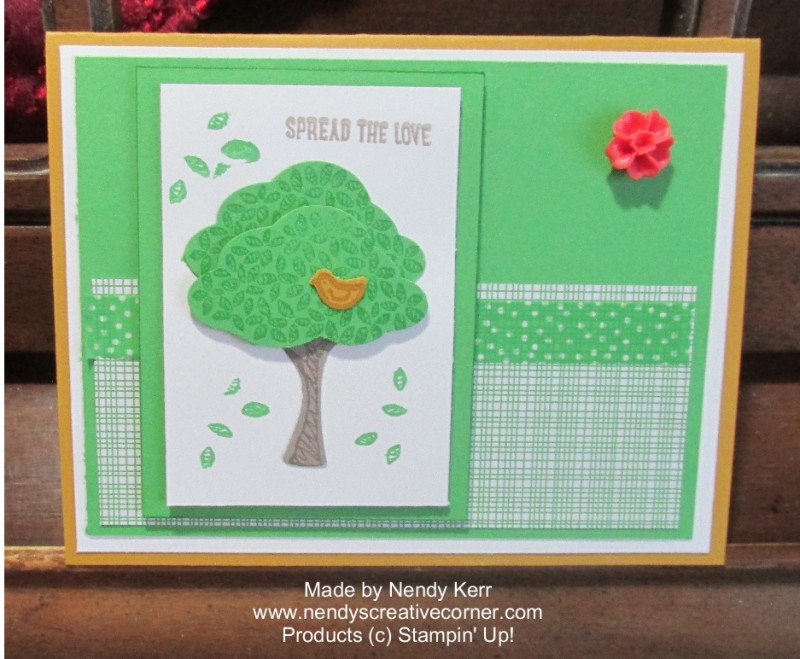 SUPPLIES:
Stamps:  Sprinkles of Life Photopolymer #139971
Ink:  Tip Top Taupe #138325
Cucumber Crush  #138324
Card Stock:  Whisper White
Cucumber Crush  #138335
Delightful Dijon  #138338
Tip Top Taupe #138336
Cherry On Top Designer Series Paper Stack #138443
Punch:  Tree Builder #138295
Other:  Cherry On Top Washi Tape #138384
In Color Blossom Accents #138383
Fast Fuse or SNAIL Adhesive
Dimensionals
Glue Dots
Tombow Liquid Glue
INSTRUCTIONS:
1.  Cut your Delightful Dijon card base at 5-1/2″ x 8-1/2″.  Score and fold at 4-1/4″.
2.  Cut the following:
~Whisper White:  2-1/2″ x 3-1/4″, AND 4″ x 5-1/4″
~Cucumber Crush:  2-3/4″ x 3-1/2″, AND 3-3/4″ x 5″
~Designer Series Paper:  2″ x 4-3/4″
3.  Layer the larger Whisper White and Cucumber Crush layers on your card base with Fast Fuse or SNAIL.
4.  Put a strip of Washi Tape across the top of your Designer Series Paper about 1/8″ from the top edge.  Attach to card front.
5.  Stamp your sentiment in Tip Top Taupe ink in the upper corner of your small Whisper White card stock.
6.  Stamp two tree leaf tops on Cucumber Crush card stock with Cucumber Crush ink.  Punch out with Tree Builder Punch.
7.  Stamp the Tree Trunk on Tip Top Taupe card stock with Tip Top Taupe ink.  Punch out with Tree Builder Punch.
8.  Arrange your Tree Trunk with the Tree Leaf Tops in the desired positions.  Glue on the Tree Trunk and the back Tree Leaf Top.  Attach the second Tree Leaf Top with Dimensionals.
9.  Stamp your bird on Delightful Dijon ink on Delightful Dijon card stock.  Punch out with the Tree Builder Punch.  Glue onto Tree Leaf Top.
10.  Add the Blossom Accent of your choice with a Glue Dot.

Happy Card Making!
Nendy Kerr