We made this fun Magical Day Castle Card at Stamp Class this month.  It was a favorite with everyone.  It is easy, but takes some time to put together.  Thank goodness for matching Thinlits to cut things out!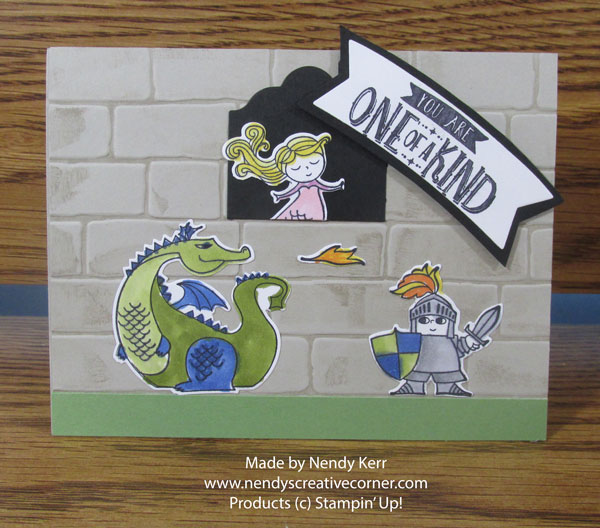 SUPPLIES:
*Bundle:  Magical Day rubber stamps + Magical Mates Framelits.  Wood Mount Bundle #145984, Clear Mount Bundle #145985
Stamps:  *Magical Day  Wood Mount #145854, Clear Mount #145857
Ink:  Memento Black
Crumb Cake
Blends Markers:  Old Olive Combo Pack #144597
Smoky Slate Combo Pack #145058
Night of Navy Combo Pack #144040
Daffodil Delight Combo Pack #144603
Pumpkin Pie Dark #144577
Pink Pirouette Dark #144592
Rich Razzleberry Light #144584
Cardstock:  Whisper White
Sahara Sand
Basic Black
Old Olive
Big Shot:Magical Mates Framelits #145660  *
Brick Wall Embossing Folder #138288
Lots of Labels Framelits #138281
Adhesives:  Tombow Glue
Stampin' Dimensionals
Tools:  Paper Snips
Stamp-a-ma-jig #101049
INSTRUCTIONS:
1.  Cut:
~Sahara Sand card base at 5-1/2″ x 8-1/2″.  Score and fold at 4-1/4″.
~Sahara Sand card front at 4-1/4″ x 5-1/2″.
~Old Olive grass at 1/2″ x 5-1/2″
2.  Big Shot:
~Stamp your sentiment in Memento Black ink on Whisper White cardstock.  Cut your sentiment out with the coordinating Framelit.
~Cut out the shapes from Whisper White cardstock and a contrasting color cardstock (place them on top of each other and cut at the same time) for the Dragon, Knight, Mermaid, and flame.  That's right, do not stamp them yet.
3. Stamp & Die Cut Technique-Watch the Video:
~Place your White die cuts in the shapes of the contrasting color cardstock shapes.  The contrasting color cardstock makes it easier to see exactly where you need to stamp.
~Get out your Stamp-a-ma-jig.  Stamp an image in each corner using the T-Handle and the imaging sheet.  Make sure and use Memento ink or Classic ink.  Archival or permanent ink will ruin your Imaging Sheet.
~Get out the stamp you want and ink it with Memento ink.  Line up the imaging sheet stamp with the cardstock shape.  Remove imaging sheet and stamp.  Repeat with the other die cuts.
4.  You can either leave the die cuts in the contrasting cardstock or remove them for coloring.  Put a sheet or two of paper underneath to protect your work surface from bleeding colors.  Color with Blends Markers.  Shade as desired by coloring some of the Dark Marker along one side, then color with the light Marker over the whole area until no line shows.
Dragon
~Dragon-green parts:
-Chest & neck-Old Olive Light
-Chest scales-Old Olive Dark
~Head-two coats of Old Olive Light (watch out and don't color the eye like I did)
~Dragon-Blue parts:
-Leg, hands, wing-Night of Navy Light
~Scales on back, tail, leg-Night of Navy Dark
Knight
~Armor, Helmet, Sword
-Use Smoky Slate Dark to color along the left side of the armor parts.
-Now color the armor parts with Smoky Slate Light swirling the Marker over the Dark part until it is blended in.
~Shield
–Use Old Olive and Night of Navy Markers.
~Feathers:
-Use Pumpkin Pie and Daffodil Delight Markers
Flame:  Use Daffodil Delight and Pumpkin Pie Markers
Princess/Mermaid
~Cut off the tail where it starts to curve up.
~Hair-I colored alternate strands with the Daffodil Delight Dark, then blended and finished coloring with the Daffodil Delight Light.
~I added the top and sleeves to her 'dress' with Rich Razzleberry Light.
~Pink Pirouette was used for the rest of the 'dress'.
The coloring is done!
5.  Brick Wall
~Get your Brick Wall embossing folder.  Find the side where the brick dividers are raised (poke up).  Rub your Crumb Cake ink pad over the top of all those lines that poke up.  Let the ink pad also lightly cover parts of the 'bricks' so they will look more realistic and distressed.
~Put your Sahara Sand card front on the uninked side of the embossing folder and line it up how you want it.  Close the folder, holding the paper in place.  Now run through your Big Shot.  Open up and see your distressed bricks!
6.  Putting it all together.
~Glue your sentiment to Basic Black cardstock and cut out a mat for it.
~Look at your Brick card front and decide which will be the top and bottom.
~Glue your Old Olive grass to the bottom.
~Lay your Princess on the Black Label.  Cut off the Princess and the window where desired.  Now glue on your Princess since the pesky tail is gone.
~Lay out all your pieces and decide where you want them.
~Glue on the Dragon, Knight, Flame, and Princess in the window.
~Attach your sentiment with Stampin' Dimensionals.
~Now glue your card front onto your card base.
Whew! Your card is finished!
Find all your Magical Card-Making supplies in My Online Store.  Place an order with me as your Demonstrator and get a FREE Tutorial for two cards with the same stamp set!