Here is a sneak peek using NEW products from both the 2017 Occasions Catalog and the 2017 Sale-a-bration Catalog.  Inside the Lines Designer Series Paper is great for coloring using the NEW Watercolor Pencils and an Aqua Painter.  The Catalog pdfs will be posted on my blog on January 4, 2017 per Stampin' Up! Rules.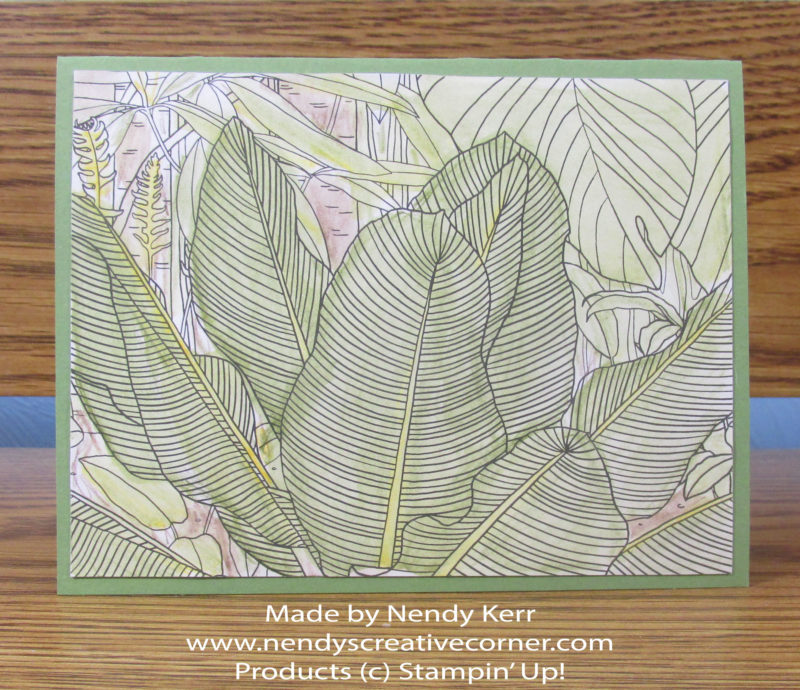 SUPPLIES:
*=2017 Occasions Catalog January 4-May 31, 2017
**=2017 Sale-a-bration Catalog January 4-March 31, 2017
*Watercolor Pencils  #141709
**Inside the Lines Designer Series Paper #143830
Aqua Painter #103594
Old Olive card stock
Tear & Tape Adhesive #138995
INSTRUCTIONS:
1.  Cut your Inside the Lines paper at 4″ x 5-1/4″.  Make sure the design is going the direction you want for your Landscape or Portrait card.
2.  Use the Old Olive, Daffodil Delight, and Early Espresso Watercolor Pencils to color the leaves.  Choose any colors you want depending on the paper you chose.
~Large Dark Green Leaves:  Old Olive Watercolor Pencil.  Color really dark around the edges of each leaf.  Color the center of each leaf so there is very little white paper showing through.  Color the center vein Daffodil Delight.
~Rest of Leaves:  Color with both the Daffodil Delight and Old Olive Watercolor Pencils in varying shades of the Daffodil Delight and Old Olive.  Some I colored with the Daffodil first, others with the Old Olive first, then layered the other color on top.
~Tree Trunks:  Early Espresso Watercolor Pencil
3.  Color each leaf and tree trunk with your Aqua Painter using just the wet brush tip without squeezing much while you are coloring.  Clean your brush tip when changing to a different color.
NOTE:  You can use a Blender Pen instead of the Aqua Painter.  You can also just leave the Watercolor Pencil coloring alone without doing anything to it.
4.  Let dry.
5.  Straighten out the paper with your Bone Folder.
6.  Cut your Old Olive card base at 5-1/2″ x 8-1/2″.  Score and fold at 4-1/4″.
7.  Put Tear & Tape on the back of your watercolored paper.  Attach paper to card base.
Happy Watercoloring!