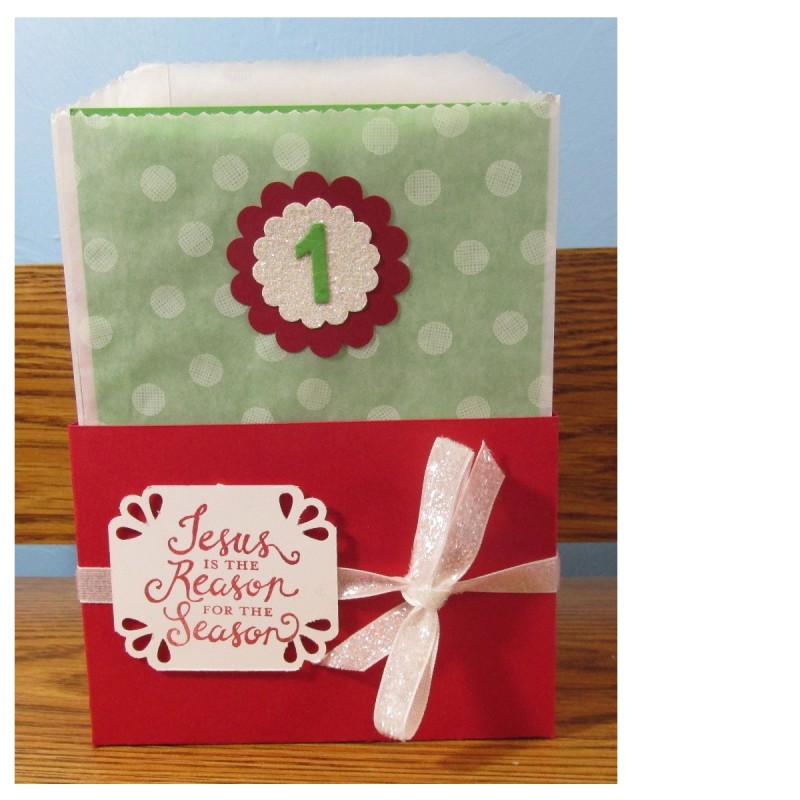 This is a fun, versatile Advent Calendar that takes up very little space.
It is fairly easy to put together.  One person can do it in about 3 hours.  Make it a family activity and you shorten the time and increase the FUN!  
There is a Bag for the first 25 days in December.  (You can add more to carry you through New Year's Day if you want.)
There are templates for cutting the Red and Green card stock that goes in the Sketched Dots Bags and to make the box to hold your bags in.
This Tutorial also includes Advent Activity Cards – both general Christmas activities and Religious Activities.    Just print, cut, and use.  There is also a document with links for Christmas music for you to sing and YouTube Links to watch.
It is EASY to use!  Choose and Advent Activity Card for each day you want an Activity.  As you finish the Advent Activity for the day, just move that Bag to the back.  The Advent Activity Bag will show for tomorrow.
Next year you can EASILY rearrange the Advent Activities OR Choose different Activities if you want.  You will still have access to the Tutorial and all it's parts.  Contact me if you forget your username.
This Tutorial is $15 and well worth the price just for the Activity Cards and links, which you can use without the bags if you want.
NOTE:  After your payment is received, you should be sent to a membership registration page on the Creative Corner Crafters site to choose a username and password.
1.  Choose the Same Username and password if you have purchased a Tutorial or Online Class from me in the last year, or subscribe to the Creative Corner Techniques as they are all on the same site.  This way you can access all your Products with just one username and password!  Please email me if you are not sent to a registration page or have trouble accessing your Tutorial.
2.  After choosing your Username and password, you should be sent to the Tutorial Page where you have access to the 2015 Advent Calendar Tutorial.
Merry Christmas-time!
Nendy Kerr